Our team of marketing professionals is passionate about what we do. We're experts in digital marketing, event management, and B2B and B2C marketing strategies. We work together to create customised solutions that meet the unique needs of each of our clients.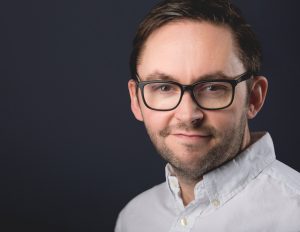 Stephen Ryan, Founder
The visionary behind Narration is Stephen Ryan. Stephen is a firm believer that every business has a unique story to tell, and he's dedicated his career to helping brands share their authentic narratives with their customers.
With over a decade of experience in marketing and brand management, Stephen has been instrumental in the success of some of Cork's most iconic organisations. As the former Head of Marketing at Cork's Red FM, he played a pivotal role in driving record-breaking listener numbers, while at Fota Wildlife Park, he helped to achieve the same feat with visitor numbers.
Stephen's efforts have been recognised with a slew of awards, including 3 Eir Spider Awards (including Best Website in Ireland), 4 Cork Digital Marketing Awards, 2 Irish Radio Awards, and 1 Cork Company of the Year award. He's a seasoned marketing expert with a track record of delivering exceptional results.
Stephen's passion for marketing doesn't stop there. He's also a respected lecturer in digital marketing and marketing at Munster Technological University, where he helped to develop the first Master's in Digital Marketing Strategy in Munster at CIT. Stephen has also been a guest lecturer at UCC on their MBA programme and has given talks at numerous marketing events throughout the year.
Stephen's passion for helping businesses grow extends beyond the classroom. He's been mentoring the Exxcel programme at the Rubicon Centre and has worked with several SMEs in the Cork region to help them develop effective marketing strategies.
Through Team Narration, Stephen is committed to bringing his extensive experience and expertise to the marketplace. He understands businesses' challenges and is dedicated to helping them communicate effectively with their customers. With Stephen and his team by your side, you can confidently tell your story, knowing that you're in good hands.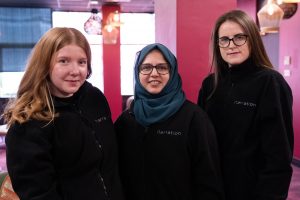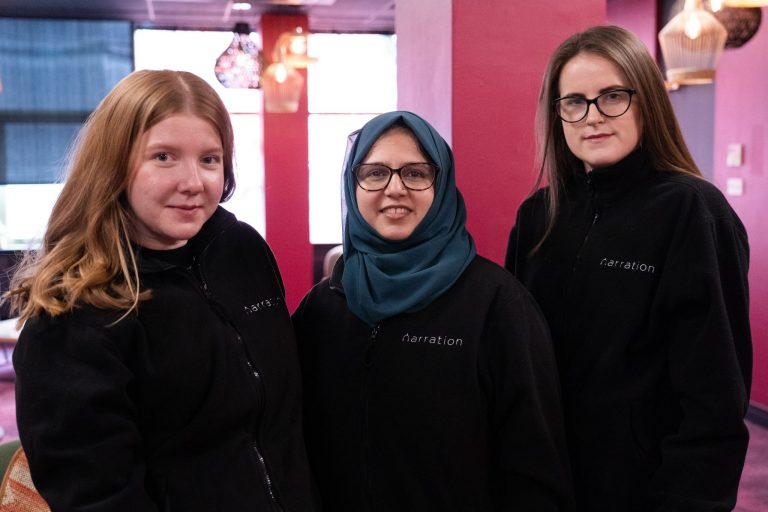 Our Team at Narration includes Alona, Alina, Rachel!
We're not just passionate about marketing, we're absolutely mad about it!
We're a tight-knit, diverse group of individuals who are focused, happy, and always open to new suggestions. We thrive on collaboration and believe that the best ideas come from working together as a team.
Let us introduce you to our talented team members.
Alona is our visual magician, with expertise in camera, animation, and design. She brings an artistic flair to our projects, creating visually stunning visuals that captivate audiences and bring stories to life.
Rachel is our marketing maven, with a wealth of knowledge in social media, brand strategy, and brand building. She uses her strategic thinking and creative prowess to craft marketing campaigns that are not only effective, but also resonate with our clients' target audience, driving engagement and results.
Alina is our digital whiz, with a keen eye for technical expertise, with five years of combined experience in digital marketing, PR, and design. She's our go-to expert for SEO, paid ads, and strategy execution. Her data-driven approach and in-depth knowledge of digital channels help us optimise campaigns and achieve measurable results for our clients.
And last but not least, Stephen is our storytelling visionary and leader! With a passion for storytelling, he brings a touch of brilliance to everything we do. As our visionary leader, Stephen has close to two decades of experience in marketing, crafting compelling narratives that connect with audiences on an emotional level, making our projects truly memorable. His expertise in storytelling adds a unique dimension to our work, making it impactful and engaging for our clients and their audiences alike.
Together, our team at Narration is a powerhouse of talent and expertise. We're constantly pushing the boundaries of what's possible in marketing, and we're always on the lookout for like-minded individuals to join us on this exciting journey. So, if you're as enthusiastic about marketing as we are, and you're ready to bring your unique skills to the table, we'd love to hear from you! Drop us a line and let's create marketing magic together! 
At Narration, we believe that every business has a story to tell. That's why we take the time to understand your business, your goals, and your audience. We use that knowledge to develop marketing strategies that are tailored to your specific needs, so that you can increase your brand presence, improve your return on investment, and grow your business.
We understand that the world of marketing can be overwhelming, which is why we're here to help. We'll guide you through every step of the process, from developing your brand story to implementing effective marketing strategies. We're committed to helping you achieve your goals and telling your story in a way that captures the attention of your target audience.
We pride ourselves on our ability to deliver exceptional results for our clients. When you work with us, you can expect open communication, timely delivery, and a deep understanding of your business needs. We work tirelessly to ensure that your business gets the attention it deserves.
So if you're ready to take your business to the next level, we're here to help. Contact us today to learn more about our services and how we can help you grow your business through the power of brand storytelling. Let's start telling your story together!
Our mission is to ignite business growth through the art of strategic brand storytelling.
We were delighted to have Stephen in to do a KENTALK (ourHEINEKEN take on TED) with our employees on the power of social media. The feedback from employees was excellent - great insight delivered with real-life examples
Stephen has a unique talent for breaking down a strategy into manageable goals with simple and understandable measures. We particularly appreciated the time that Stephen gave to take at events we held for local businesses and students.
So if you're ready to take your business to the next level, we're here to help. Contact us today to learn more about our services and how we can help you grow your business through the power of brand storytelling. Let's start telling your story together!
.